Holy Family Athletics
At Holy Family Catholic School, our athletics department, develops each child as an individual, including the physical needs of our students. Our athletics department is a volunteer parish organization providing CYO sports for children in grades 3-8. We also offer intramural sports in 1st and 2nd grade. Our goal is to encourage physical health while promoting teamwork, a strong work ethic, and a goal-oriented focus.
CYO Sports Grades 3-8
Winter season starts on November 1. Sports available include Boys and Girls Basketball. Forms have gone home and are due back October 15. Game schedules will be available Thanksgiving Week.
Spring season starts March 1. Games and track meets begin late March.  Sign up forms available soon. Please visit CYO Sports on the menu bar for links to the Hold Harmless and Physical Forms
Intramural Sports Grades K-2
Intramural Basketball starts on Sunday, March 10th. Intramural basketball for girls and boys in grades Kindergarten thru 2nd Grade begins Sunday, March 10th and continues on Sundays through the month of March (17th, 24th and 31st). Kindergarten plays from 6:30 to 7:00 PM and 1st/2nd Grade plays from 7:00 to 8:00 PM. Click here for the registration form or e-mail athletics@holyfamilyschoolparma.org for more information.
Holy Family Athletics to hold their annual Night at the Races on April 27, 2019!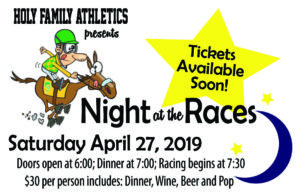 Our Night At The Races is set to take place on Saturday, April 27th.
Doors will open at 6:00 p.m. Dinner will be served at 7:00 p.m. Racing begins at 7:30 p.m.
Tickets will be $30 per person. Includes:  Dinner, Wine, Beer and Pop. Available soon…
Save the Date for our 3rd Annual Centurion Classic – August 10, 2019 at Ridgewood Golf Course!
Contact the Athletic Department
Joe Kucera, Athletic Director